family dispute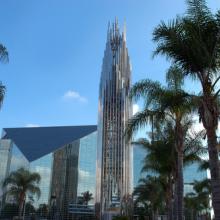 Last Sunday, Pastor Sheila Schuller Coleman appeared for apparently the last time before some 800 people at the morning service of the Crystal Cathedral in Garden Grove, Calif.
For members of the extended Schuller family who had built and shepherded the iconic megachurch into the spiritual home for 10,000 members, so much had changed:
Faced with staggering debts and a bankruptcy filing, the glass building was recently sold to the local Catholic diocese, but can remain Protestant in the short term.
The staff had dropped from 350 to 200, including the recent firings of Coleman's sister, husband and brother-in-law, who had all worked on its "Hour of Power" broadcasts.
Just the day before, her parents, Robert H. and Arvella Schuller, had departed the ministry they started more than 50 years ago, citing a multimillion-dollar fight with its board.
As members of the Schuller family head in new directions — Coleman and brother-in law Jim Penner plan to start a new church this Sunday — the famous glass-walled church offers a cautionary tale of the potential pitfalls facing family-run ministries.