Family Christian Radio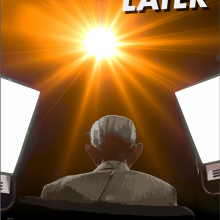 For thousands of years, select groups of Christians have thought their generation was Earth's last. Even the Apostle Paul thought Jesus would return in his lifetime. But Paul didn't have the audacity to pinpoint an exact date for what we call the Rapture. Harold Camping, on the other hand, did.
Apocalypse Later: Harold Camping vs. The End of the World a new documentary that premiered June 8 — exposes wrongful and conflicting beliefs about Jesus' return by sharing Camping's concrete opinions of those who didn't follow his beliefs of the apocalypse. Declaring their spot in hell, Camping was certain that those who didn't follow his apocalyptic views would spend eternity in damnation.
Apocalypse Later tells the story of Camping, a man who had to let go of his pride and face the reality of joining the dozens of others who have wrongly predicted the end of time.
In the documentary, historian and New Testament scholar Loren Stuckenbruck refers to the apocalypse as a "literary genre," a "mode of thought," and "a social movement."
The film is emotional and shocking, contrasting the scary, more literal interpretations of fundamentalist Christians with the more nuanced hermeneutical approaches of academics like Struckenbruck. The juxtaposition reveals that the tensions and battles that Christians face might not be against those who will be "left behind," but rather between Christians themselves.