faith and reason
I'm not going to have time to post this tomorrow, so enjoy your Church Sign Epic Fails a little early this week! Today, we have a face-off between faith and reason, as some seem to feel like having both coexist is a physical impossibility. So with a few others thrown in for a little spice, enjoy this cage match between faith and reason.
Let's get ready to grumble!!!!!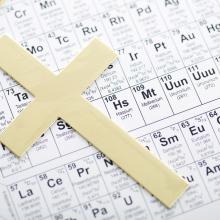 Growing up, I heard things at camp and in youth group about how "the world" thought and acted one way, and how "we" were not like that. In fact the world, it seemed, was intent on unraveling everything I valued as good and true, leaving me with a smoldering pile of ideals and beliefs, all dead at the point of a secular sword. It was our job as Christians not only to defend against this frontal attack, but also to fight back in an effort to win souls for the Kingdom.
It was an epic battle, now in its beginning stages, but that would play out as depicted in the fantastical, horrifically violent pages within the Book of Revelation. The end is near; which side will you be on?
The Christianity of my youth was much like the Temple Mount in Jerusalem — a shining jewel high on a hill, beset on all sides by forces intent solely on its destruction. And our mission, as stewards of the faith, was to preserve and maintain the faith, protecting it at all costs. This, I would later learn, was the theological heart of what I now know as the Culture War. And some within the walls of the temple might argue I've abandoned the cause, or perhaps switched sides all together.