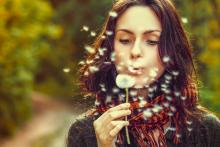 Recently I've been re-reading Susan Cain's excellent book, Quiet: the Power of Introverts in a World that Can't Stop Talking. Extroverts will want to take it with a grain of salt (although some of the book's speculations suggest that extroverts are fairly thick-skinned about being taken down off their pedestals), but the book is a fascinating exploration of what it's like to be an introvert in the world, including some analysis about how one gets to be an introvert, anyway, including how much is genetic, and how much comes from early environment.
It was in reading one of these "nature or nurture?" passages that I first encountered the "orchid hypothesis." Taking its name from David Dobbs' 2009 article, "The Science of Success," published in The Atlantic, the orchid hypothesis essentially argues, as Cain puts it, that:
"… many children are like dandelions, able to thrive in just about any environment. But others, including the high-reactive types that [developmental psychologist Jerome Kagan] studied, are more like orchids: they wilt easily, but under the right conditions can grow strong and magnificent." (Quiet, 111)
This jumped off the page at me.