The Enough Project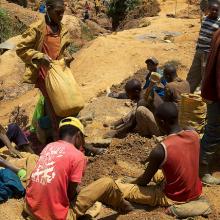 Overall, the conflict minerals provision will have a positive effect on promoting peace and stability in Congo — but a slow one. The rule gives major companies a two-year window to implement the regulations,despite the fact that the slow release of the rule has already caused aninherent one-year delay.
Given today's intense political climate, particularly regarding corporate responsibility and regulation standards, the release of this rule took over a year, making Wednesday's vote a truly long-awaited and important day. The rule is a win for both American consumers and those seeking peace in Congo. However, it also appears to have been weakened to placate the U.S. Chamber of Commerce and the National Association of Manufacturers, who have both threatened lawsuits on behalf of big-business lobbies.
According to the SEC, both provisions drew in some of the most intense public pressure, accumulating hundreds of phone calls to their offices and thousands of petition signatures for the release of strong rules. Many of activists who understand their unique connection to the conflict in eastern Congo through consumer electronics products, have joined organizations like the Enough Project and faith communities, in raising their concern as consumers to pressure electronic companies and governments to clean up the supply chain of conflict minerals. It's been a journey of advocating with Congolese civil society for a clean supply chain that benefits rather than destroys communities in eastern Congo.