enemy combatant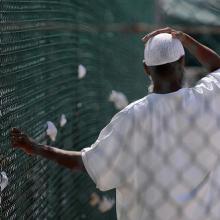 In today's White House press conference, CBS News' Bill Plante raised the questions with President Barack Obama about the growing hunger strike among prisoners at Guantanamo Bay. "Is it any surprise, really," asked Plante, "that they would prefer death rather than have no end in sight to their confinement?"
"Well, it is not a surprise to me, " President Obama responded, "that we've got problems in Guantanamo."
Last week, a military spokesperson confirmed that the total number of irregularly held prisoners at the U.S. Naval prison at Guantanamo Bay has risen to 92 out of the 166 still in detention.
The Guantanamo prisoners began hunger striking on Feb. 6 after guards confiscated their Korans to examine them for contraband. The prisoners reported that their Korans had been desecrated by the guards, which a military spokesperson denies. Fueling the strike is the men's loss of hope of ever leaving Guantanamo alive, most having been held more than 11 years without charge and Obama refusing to free even the 86 cleared for release.