Eid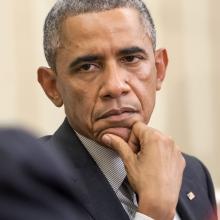 President Obama supports the right of Muslim Americans to celebrate religious holidays, the White House said Dec. 11. He just can't give them the day off.
Responding to a petition on the White House's "We the People" site, the White House declined to declare federal holidays for the Muslim holy days of Eid al-Adha and Eid al-Fitr.
That's because Congress has only designated 10 federal holidays each year: New Year's Day, Martin Luther King, Jr. Day, Washington's Birthday, Memorial Day, Independence Day, Labor Day, Columbus Day, Veterans Day, Thanksgiving, and Christmas.
"Proposals for new permanent federal holidays are typically the province of Congress," the White House said.
In their holiday Eid al-Fitr khutbas, or sermons, on Thursday many imams across the country noted a growing climate of acceptance in America but urged Muslims not to forget the problems facing their communities in the U.S. and overseas.
"The Eid khutba is like the State of the Union address," said Oklahoma-born convert Suhaib Webb, imam of the Islamic Society of Boston Cultural Center, the biggest mosque in New England, to an overflowing crowd — men dressed in crisp robes, tunics, and three-piece suits, women in black abayas, long floral wraps, and colorful headscarves.
"Our community is at a unique crossroads," Webb said, issuing a call for older Muslim generations to allow younger generations to have greater roles in community affairs. "There are a lot of young people with a lot of excitement, and a lot of old people with a lot of fear. And that's not a healthy thing."