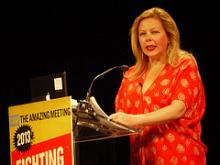 As the Secular Coalition for America prepares for its biggest event of the year this week in Washington, D.C., atheist groups are recovering from the sudden departure of the coalition's highest officer and confronting renewed charges that nonbelief groups have a shortage of women leaders and are suspicious of conservatives.
The SCA, which lobbies on behalf of more than a dozen secular groups, announced that its executive director, Edwina Rogers, was let go after employees embezzled $78,000 from the organization.
The story was first reported by The New York Times and referred to a leaked internal audit.
The SCA said Rogers, who was hired about two years ago, was in no way connected to the missing funds. She dismissed the two employees allegedly responsible and reported the matter to the police and the organization's board.