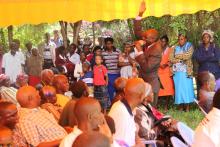 Throngs of Roman Catholics are expected to greet Pope Francis when he visits East Africa this week.
But the Rev. Anthony Musaala won't be a part of the official welcoming delegation.
Two years ago, Ugandan Archbishop Cyprian Lwanga suspended Musaala indefinitely — barring him from administering the sacraments — when Musaala wrote an open letter that challenged his priestly vows of celibacy, condemned sexual abusers among the clergy, and criticized priests who father children and abandon them.
Lwanga said the letter "damages the good morals of the Catholic believers and faults the church's teaching."