dysfunction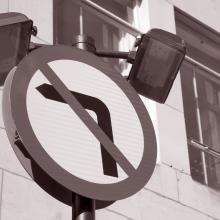 "All truth passes through three stages. First, it is ridiculed. Second, it is violently opposed. Third, it is accepted as being self-evident." —Arthur Schopenhauer
I'm visiting Las Vegas this weekend, one of several stops on my postChristian book tour. I'm staying with my aunt and uncle, who are also in ministry, and who I don't get to spend time with nearly often enough.
My aunt JoLynn was reading aloud a story about the shipping company UPS and how their trucks don't make left turns. Of course my first reaction was, "well, that's stupid." It seems entirely counterintuitive to send trucks on a roundabout circuit when they could much more easily cut the route short by hanging a left. You need to go right, turn right. Need to go left, turn left for crying out loud. It's just common sense, right?
Maybe not.
UPS has a proprietary navigation system that helps drivers plot out all of their stops in a day and the most efficient way to get there. And based on their research, left turns result in more wasted time and more accidents than they're worth. Drivers end up stuck at long lights when they could otherwise be turning through a red light making a right turn and making another drop-off. Plus, without left turns, trucks don't have to cross oncoming traffic, which means fewer collisions.
They save time. They save money. All it took was thinking differently about how the delivery routers should be configured without all of those high risk, time-consuming left turns.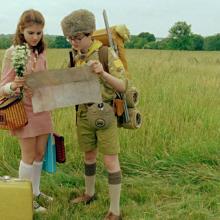 I liked this film so much I've already seen it twice. Moonrise Kingdom is so good, in fact, I almost couldn't bring myself to write about it for fear of not doing it justice.
And yet, since I first took my 11-year-old nephew, Ethan, to see it last month, I've been talking about Moonrise Kingdom nonstop, encouraging everyone I know to go see it. It has captured my imagination completely, an absolute tour de force — wholly original and an "instant classic," as I heard one film critic utter tell a companion on his way out of the theater.
Perhaps Ethan, a mythology buff who's never met a fantasy film he didn't like, put it most eloquently when he said (surprising no one more than himself), "That was the best film I've ever seen."
Moonrise Kingdom is director Wes Anderson's seventh feature-length film to date. In an iconoclastic cinematic oeuvre unrivaled among filmmakers of his generation, Anderson's latest stands above the rest of his stellar films — Bottle Rocket, Rushmore, The Royal Tennenbaums, The Life Aquatic with Steve Zissou, Fantastic Mr. Fox and Darjeeling Limited — as an eloquent, funny, enduringly poignant homage to childhood and, moreover, to innocence.
In a word, the film is perfect. I wouldn't change a thing.