durban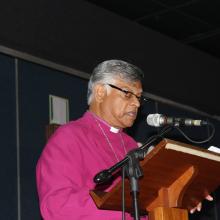 "Come to the living God … Come to stand alongside those who suffer
Come to those who seek freedom … Come to resist all that offends God's justice
Come to Jesus as He hangs on the Cross … Come to the living disturbing God."
DURBAN, South Africa — A precursor to Easter sunrise and call to commitment is the now 30-year ritual Good Friday packing of the International Exhibition Center with 3,000+ ecumenical congregants participating (with dance, choir, prayers, and prophetic preaching) in the call to "Arise – Act for a Just Society." Anglican Bishop Rubin Phillip set the scene with a moving historical reminder of the reason for the 1985 first march to the central prison. It was to protest the silencing of the 16 Durban "treason trialists" (including congregational deacon Archie Gumede, and Frank Chikane, post-apartheid member of the first multiracial Assembly, Apostolic pastor, and future President Nelson Mandela staff chief). Family members of the incarcerated and current elected leaders carried a cross to city hall, calling all to love mercy and act justly. We paused to give thanks for their courage at the one remaining wall of the prison now in the front plaza of the iconic convention center. When the first march 30 years ago stopped to sing and pray, "voices were heard from inside the prison joining in the singing of Good Friday hymns."
After two weeks of extensive talking, and running hours beyond schedule, a deal to cut global carbon emissions finally has been reached. As the climate conference in Durban, South Africa came to a close last weekend, a treaty known as the Durban Platform emerged, requiring all countries to begin curbing carbon emissions by 2020.
The deal binds all countries — rich and poor — to "hold the increase in global average temperature below 2C or 1.5C above pre-industrial levels," according to the Framework Convention on Climate Change. Further, plans for enhanced action must be solidified by 2015, with the contracts bearing legal force.
Michael Jacobs, a member of the of the Grantham Research Institute on Climate Change and the Environment in London, told the BBC that " by forcing countries for the first time to admit that their current policies are inadequate and must be strengthened by 2015, it has snatched 2C from the jaws of impossibility. At the same time it has re-established the principle that climate change should be tackled through international law, not national, voluntarism."
But the treaty has its drawbacks.