dragster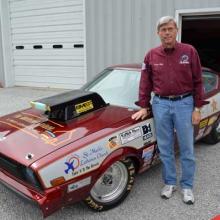 BOWLING GREEN, Ohio -- Until his recent retirement, the Rev. Dale Schaefer spent most Sunday mornings wearing vestments and leading worship services at St. Mark's Lutheran Church.
But whenever he had the time on his off days, the soft-spoken preacher would slip a helmet over his gray hair, don an asbestos racing suit, and climb into the cockpit of a 750-horsepower dragster he built from the ground up.
"There is kind of a rush when you launch this thing off the starting line," Schaefer said, giving his customized 1980 Plymouth Arrow a loving slap. "Your eyes go back in their sockets and they don't pop back until you're about at the hot dog stand. Then you can see again. It's a rush."
Pastoring a church of 500 had kept him too busy to take the car to Norwalk, Ohio, where he often competes in the Super Gas and Super Pro divisions at Summit Motorsports Park.
Now in his second month of retirement, the 68-year-old minister got to race in the drag strip's Halloween Classic, a weeklong event that draws 1,500 cars from around the country.
Schaefer usually tops 140 mph in the quarter mile, crossing the finish line in under 10 seconds.
That's a Sunday stroll in the park compared to the top-level pro dragsters that can pack up to 8,000 horsepower and reach speeds of more than 340 mph on a 1,000-foot straightaway, he said.
But it's plenty of speed for a "sportsman" or hobbyist like the Racing Rev.