doping scandal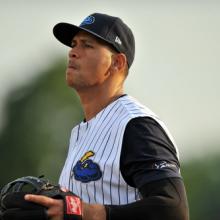 I have a long history of hating the-man-who-shall-not-be-named. In fact, my wife no longer lets me watch the Yankees. That's because we have children and she doesn't want them to hear me launch f-bombs at the television whenever my arch-nemesis stands at the plate.
It wasn't always this way. In fact, I used to love him. I grew up in the Pacific Northwest, so the Seattle Mariners are my favorite team. He began his career with the Mariners, but after a few years of stardom, he let it get to his head and he joined the Texas Rangers. "It's not about the money," I remember him saying. But that was disingenuous. The Rangers crippled their team by providing him with the biggest salary in baseball history.
It was heartbreaking. I once heard that whenever hearts break, they either grow bigger or they become calloused. Well, my heart calloused. Along with other Mariner fans, I took a certain satisfaction in knowing that the Rangers, now led by the-man-who-shall-not-be-named, were horrible. In his three years in Texas, the Rangers were one of the worst teams in baseball and never ended a season above last place in their division.
And I loved it.