DMZ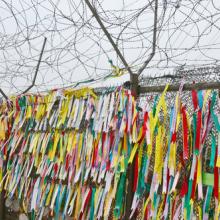 Walls exist between U.S. and Mexico. A few years ago, I took a class to the Mexico-U.S. border through BorderLinks, an organization that provides educational experiences to connect divided communities, raise awareness about border and immigration policies and their impact, and inspires people to act for social transformation. We visited the metal wall that separates the United States from Mexico at Nogales, Mexico.
The walls went up in 1994.
The North American Free Trade Agreement (NAFTA), established in 1994, was supposed to help with trade and the economic status of Mexico. However, it failed to do this. It backfired and made the economic situation worse for the people of Mexico. Rich corporations and companies that benefited from the Free Trade Agreement as they were able to move their factories down to Mexico where the labor was cheap and profits higher. As the economy of Mexico suffered, more people made their way, without documents, to the United States to seek work so they could support their families.
In 2006, the United States responded with the Secure Fence Act. As President George W. Bush signed the bill, he stated, "This bill will help protect the American people. This bill will make our borders more secure. It is an important step toward immigration reform." The act included provisions for the construction of physical barriers — walls — and the use of technology to these ends.
This wall is under constant surveillance to prevent people from entering into the U.S. illegally. Ironically, it is a wall built from the remaining metal landing scraps of the Gulf War. The border is highly militarized with patrols who treat migrants as "prisoners of war." It symbolizes militarization, greed, xenophobia, hatred, pride, nonsense, and fear of the other, a reminder of wanting to protect what is yours and not sharing what God has given you. Walls continue to go up along the border as the people of the United States continue to fear that undocumented people will take away jobs. These fears may devastate the lives of the poor in both countries.
Recently, I had the opportunity to visit the DMZ (Demilitarized Zone) between the two Koreas along with a group of students and faculty from George Fox University. As the most fortified border on the entire planet, the DMZ contains an arsenal of tanks, land mines, watchtowers, razor wires, artillery, and nearly two million armed troops ready to face off within a moment's notice. Former President Bill Clinton described the DMZ as the "scariest place on earth," a description more eerie coming from one of the few people in history to have had direct access to the "button."
While observing the various sites within the DMZ, I thought about how the pacifist Quakers, who founded my school in 1885, would have reacted to such an experience.