divine feminine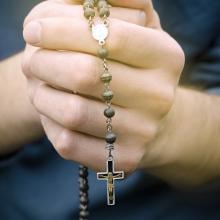 As part of this year-long effort to better understand what we mean when we talk about following Jesus, I've been making a more concerted effort to pray every day. Even though my tendency is to focus on silent, contemplative reflection, I've actually taken on a number of prayers that I do several times each, over a half-hour period or so.
Along with the Lord's Prayer ("Our Father/God, who art in Heaven…"), the Jesus Prayer ("Jesus Christ, son of God, have mercy on me, a sinner"), the Serenity Prayer ("Lord, grant me the serenity to accept the things I cannot change…") and the Prayer of St. Francis ("Lord, make me an instrument of your peace…"), I also recite the Hail Mary. Not only that, but I use a rosary to go through my prayers.
I've shared this with some folks, and inevitably someone is surprised by this. I'll get something like, "I didn't know you're Catholic." Or, "Why pray to Mary? After all, she's not actually God."
Or is she?
Not that I think Mary personally was "God with skin on," like we sometimes talk about Jesus. But like her son, I do tend to think that she pointed us toward God, which seems to be the one of the most important things Jesus did. In fact, when I'm asked what's different about Jesus — as compared with other prophets and miracle workers in the Bible — I tend to respond that he, unlike others who preceded him in the biblical narrative, was more like the needle of a compass, pointing us in a common direction, rather than making himself the X marking the spot, the ultimate destination.
For me, Mary does this as well. There's no story about her in the Gospels that suggests anything other than total devotion to God and to Jesus. In fact, in her conversation with God about becoming Jesus' mother sounded much like Jesus prayer to God in the garden of Gethsemane, just before he was handed over to be crucified.
Both offered humble submission: Not my will, God, but yours be done.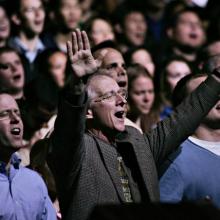 I really want to give people like John Piper the benefit of the doubt. Given that he's a minister in the Baptist tradition, it doesn't surprise me when he only refers to God as "he" or when he talks about the man's role as spiritual head of the household. I grew up Baptist, so I've heard it all before.
But he goes too far with it. Way too far. And given the breadth of his influence, his message serves to normalize the marginalization of half (slightly more than, in fact) the world's population. While I expect he believes he is fulfilling a divine call in sharing his message, I believe I'm serving a similar call in holding him to account.
Piper, recently keynoted a conference called "God, Manhood and Ministry: Building Men for the Body of Christ." On first blush, this sound both exciting and very necessary. Men are leaving organized religion in droves, and in many cases, they are walking away from their families as well. I agree wholeheartedly that today's man needs some clarity, support and guidance in how to exhibit Christ-like traits of strength, conviction, love and dedication both in the home and in communities of faith.
None of this, however, requires the relegation of women to a second-tier role, which is precisely what Piper seems to be doing.