disney princesses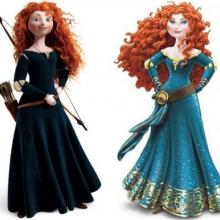 Having a 3-year-old daughter opens your eyes to a world that you did not know existed, the world of princesses. Disney has cornered the princess market; there are currently 11 official Disney princesses, and if you are brave enough to travel to Disney World/Land or even a Disney store, you will soon find out that there is a plethora of accessories — dresses, placemats, and cups (just to name a few).
Disney has come under fire in the past for focusing only on Caucasian women — Snow White, Cinderella, Aurora (Sleeping Beauty) and others. But over time, non-white princesses were introduced, like Mulan, Pocahontas, Jasmine, and Tiana.
Disney's latest princess was Merida from the film Brave broke most of the Disney princess rules. She didn't like pretty gowns, she liked to shoot bows and arrows, and her crowning glory was frizzy, wild red hair. Some people believed that Disney had finally broken the mold of the "damsel in distress" model of princesses that has been a dominant theme throughout many of the films. The trend actually started with Pocahontas and Mulan; maybe the theme of strong women role models would continue. Brave was a cute film with a wonderful message. Merida had a round face and was rough and tumble with her triplet brothers. She didn't want fancy dresses or even want to be a princess; Merida just wanted to be Merida. She was the example of girls being girls, no matter how they look.
However, in a recent update, Disney decided to take the idea of Merida in Brave and throw it out the window. Merida, for her official induction into the Disney princess cohort, got a bit of a makeover. Merida 2.0 was taller, skinnier in the waist and had a slimmer face. Her famous bow-and-arrow set are missing, and her iconic wild hair has been tamed.
After the uproar that followed, Disney quietly pulled the newer version of Merida.
But my question for Disney stands: why? What was so wrong with Merida that it warranted the change?
I'm a child of the 90s—the true height of Disney mania. Little Mermaid. Aladdin. Lion King.
But have you ever gone back and watched a childhood movie as an adult? And what about after tapping into social justice? Well, you missed a lot the first time around. Your little toddler brain had no idea that things could be so complex. So—the ten ways the social justice movement changed how I look at Disney movies:
(In no particular order of severity or hilarity.)
10. Learn the Humanity of the Poor — Let's learn from Aladdin and not be the snooty prince with the weirdo facial hair pattern (who, as we learn later wears the classic red heart boxers). When we push the poor aside, we deny their God-given humanity.
Aladdin, that handsome be-vested "street urchin," sang it best.