democratic platform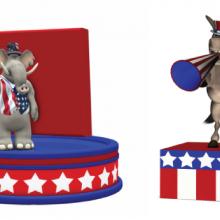 On the heels of the Republican National Convention, where the shadow of the Religious Right still ominously looms, it was notable that the Democratic National Convention opened with a debate over the absence of the divine name. It seems that the (original) official platform of the Democratic National Party had completely left God out.
Or, should I say, they completely left "God" out.
Whether God was actually M.I.A. is a profound theological and important question beyond the scope of semantic cameos. Yet the failure to baptize their platform with the faith-filled language of Charlotte, N.C.'s evangelical culture created quite a stir, both within and beyond convention walls.
Leading the charge for the defense of the divine was none other than Paul Ryan, who made the claim that the omission of "God" was "not in keeping with our founding documents."
Apparently, Mr. Ryan was not including the obscure document known as the Constitution, which contains no reference to God.