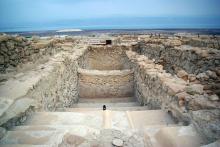 Trapdoors, secret chambers, and mysterious torch-lit beach rituals. The eighth episode of Dig, the Holy Land conspiracy thriller that aired April 23 on the USA Network, serves up all these classic elements of suspense.
But that heady cocktail comes with a shot of religious history and biblical references that add context to what is already a complex plot involving cloned high priests, murderous rabbis, and the cutest little red heifer ever genetically engineered on a Danish farm. Can you hear religion and popular culture go CRASH?
"It can't all be crazy, though, can it?" Emma Wilson (Alison Sudol) asks the hot FBI agent on Dig, Peter Connelly (Jason Isaacs), as they look at end-of-the-world messages left behind by a crazed — and dead — archaeologist.
"The messenger, maybe," Peter replies.
"But not the message."
"To a nunnery, go!"
Both the bad guys and the good guys descend on a nunnery belonging to a group called the Sisters of Dinah, in search of an antique plaque depicting "the revenge of Dinah."
The fictional religious order and its equally fictional plaque are derived from the story of Dinah, the daughter of Jacob and Leah. The Book of Genesis tells how Dinah is kidnapped and raped by Shechem, a rival tribesman. Shechem then asks for Dinah's hand and says her family can ask any "bride-price" they like from his family.