Dead Sea Scrolls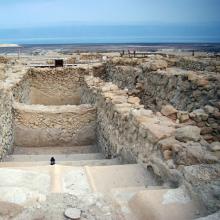 Trapdoors, secret chambers, and mysterious torch-lit beach rituals. The eighth episode of Dig, the Holy Land conspiracy thriller that aired April 23 on the USA Network, serves up all these classic elements of suspense.
But that heady cocktail comes with a shot of religious history and biblical references that add context to what is already a complex plot involving cloned high priests, murderous rabbis, and the cutest little red heifer ever genetically engineered on a Danish farm. Can you hear religion and popular culture go CRASH?
"It can't all be crazy, though, can it?" Emma Wilson (Alison Sudol) asks the hot FBI agent on Dig, Peter Connelly (Jason Isaacs), as they look at end-of-the-world messages left behind by a crazed — and dead — archaeologist.
"The messenger, maybe," Peter replies.
"But not the message."
"To a nunnery, go!"
Both the bad guys and the good guys descend on a nunnery belonging to a group called the Sisters of Dinah, in search of an antique plaque depicting "the revenge of Dinah."
The fictional religious order and its equally fictional plaque are derived from the story of Dinah, the daughter of Jacob and Leah. The Book of Genesis tells how Dinah is kidnapped and raped by Shechem, a rival tribesman. Shechem then asks for Dinah's hand and says her family can ask any "bride-price" they like from his family.
After reading my post about Randy Wolford, the snake-handling pastor, died from a venomous snakebite, fellow God's Politics blogger Tim Suttle sent me a link to his own post on the subject. Suttle's angle was different, and I found it fascinating.
Basically, he contends that the verses in Mark that Wolford and others use to justify handling snakes as an act of worship (among other bizarre practices) should not ever have made it into the Bible to begin with. His article cites what he calls a "nerdy academic journal article" from Bible scholar Robert H. Stein. In it, Stein notes a few reasons why the text in Mark chapter 16 beyond verse 8 should never have been included in the Bible.
First, there have been older copies of the manuscripts from which Mark was produced that stop at Mark 16:8. In addition, there's the historical agreement among scholars that scribes (the guys who copied the texts by hand) did have a propensity for adding to the documents they copied but seldom, if ever, deleted anything. There's also the fact that ancient scholars whose commentaries on Mark have been found do not mention these verses at all, as well as the agreement among many Biblical scholars that the tone of those verse suggests a different author wrote them.