day of prayer and fasting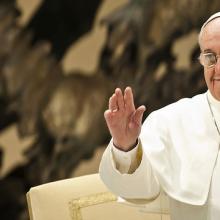 Editor's note: Sojourners is taking part in Pope Francis' Saturday call to pray for peace. Will you join us?
We learned the story in Sunday School.
Jesus and his inner circle — Peter, the rock, and James and John, the sons of thunder — came down from the Mount of Transfiguration and found the disciples facing their own inability to cast an unclean spirit out of a young boy. Annoyed with the disciples, Jesus says to the father: "If you believe, all things are possible to him who believes." (Mark 9:23) The father replies: "Lord, I believe; help my unbelief." (Mark 9:24) Jesus casts out the unclean spirit. Later, when the disciples ask why they were unable to do it, Jesus says that some only come out through prayer and fasting.
For anyone to think that it is a good idea to use chemical weapons in warfare is evidence of the presence of an unclean spirit. A cycle of violence and vengeance in war is also evidence of an unclean spirit. War itself is evidence of the presence of an unclean spirit. Such is the case in Syria. The leaders, both religious and secular, have been possessed of a spirit that causes them to be blind to the brotherhood and sisterhood of all of humanity. They cannot hear reason or speak truth.
As the world considers an appropriate response to the use of chemical weapons in the Syrian civil war, and as the U.S. Congress contemplates giving President Barack Obama its approval to launch limited military strikes against the Assad regime, those of us who call ourselves believers face our own challenge and responsibility. What do we believe? The Bible tells us that there is a time for every purpose under heaven: "A time of war, and a time of peace." (Ecclesiastes 3:8) The Bible also says that we ought to submit ourselves to authority: "Let every soul be subject to the governing authorities. For there is no authority except from God, and the authorities that exist are appointed by God." (Romans 13:1)