cycling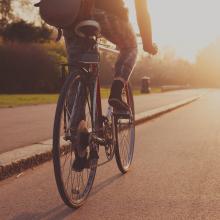 Nearly every issue of national concern — from prison to education to tax reform, from healthcare to LGBT rights — has become so polarizing that otherwise civil, intelligent human beings often digress to the level of obdurate toddlers staring down a bowl of broccoli.
Even as we jeer at our elected officials who can't seem to get their acts together, none who have spent any time in a church business meeting should be surprised at the level of strife and vitriol displayed in the American political arena. Seriously, it's getting as scary as Jack Nicholson's eyebrows out there.
If you live in any kind of an urban context you'll likely have witnessed the following scene.
You're at a stoplight in your car and up rolls a cyclist.
The Lance Armstrong news is still fresh on people's minds, but based on the news and Internet chatter I've seen, this is being met with a more somber response than, say, Barry Bonds or Mack Mcgwire. In the case of the latter two athletes (along with many others), it seems that the public has revelled in some degree of Schadenfreude as they witness someone being pulled from their high pedestal, back down to dwell among us common folk.
Yes, we have a strange bloodlust for tearing down those we've chosen previously to build up as icons or role models, and Armstrong's grave-dancers surely will come out of the shadows in time, but is there something different about him? Do we have more of a reason to mourn his precipitous decline, as opposed to others who have preceded him?