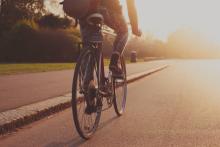 Nearly every issue of national concern — from prison to education to tax reform, from healthcare to LGBT rights — has become so polarizing that otherwise civil, intelligent human beings often digress to the level of obdurate toddlers staring down a bowl of broccoli.
Even as we jeer at our elected officials who can't seem to get their acts together, none who have spent any time in a church business meeting should be surprised at the level of strife and vitriol displayed in the American political arena. Seriously, it's getting as scary as Jack Nicholson's eyebrows out there.
If you live in any kind of an urban context you'll likely have witnessed the following scene.
You're at a stoplight in your car and up rolls a cyclist.