culture clash
Growing up in the seventies, I never questioned my parents' love for their adopted homeland.
And yet as immigrants from Argentina, there were things they did not love: rock and roll music, and teenagers having sex.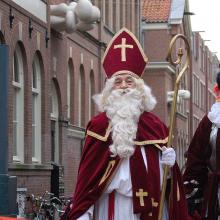 Happy Sinterklaas?
Today marks a traditional winter holiday in Holland and other parts of the European Low Countries (the Netherlands, Belgium, Lille and Arras, predominantly) featuring Sinter Klaas, the forerunner of our Santa Claus, who is traditionally accompanied by a helper named Zwarte Piet (aka "Black Pete") — a young man in black face with curly black hair, thick red lips and dressed as a courtisan with a velvet jacket and frilled shirt.
Sinterklaas — who also goes by Sint Niklaas or De Sint in Holland and environs — was a stranger to me until a few years ago when Dutch-American friends introduced him to me. In my friends' home this morning, the children will awaken to wooden shoes filled with goodies.
Sounds like a charming holiday tradition from the old country. But is it simply that?