council on american islamic relations
President-elect Donald Trump will spend much of the time until his inauguration on Jan. 20 composing his new administration. That means naming Cabinet appointees, and government department or agency heads, as well as selecting advisers.
Many of Trump's appointments so far are people of faith; some are supported or opposed by different faith groups; others have made public statements, or taken actions, regarding different faith groups.
Here is a list of Trump's picks to date and a description of their relationship to religion.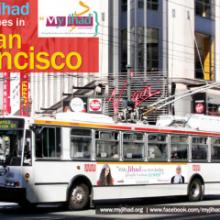 An ad campaign on San Francisco buses is aimed at trying to change public perception of the word "jihad," which the program's founder says has been distorted by extremists — Muslim and anti-Muslim alike.
Ahmed Rehab, a 36-year-old political activist, started the campaign in Chicago in December and expanded it to 25 San Francisco buses at the start of the year.
Rehab, who heads the Chicago office of the Council on American-Islamic Relations, says his MyJihad campaign, which defines jihad as a personal struggle in many areas of life, is aimed at reframing a debate over a word that has become synonymous in many quarters with armed struggle and terrorism.
He said the debate has been taken over "more or less by two extremes — Muslim extremists and anti-Muslim extremists."