Coptic Christian
After decades of polarization along religious lines, Christians and Muslims in Egypt are coming together to rally behind their flag.
The country is in the midst of a swell of nationalism that began during the revolution in 2011 and intensified when citizens took to the streets in June of this year to call for the removal of President Mohammed Morsi of the Muslim Brotherhood.
Egyptian flags adorn houses and buildings throughout the capital, and everything — from sandbags buttressing military blockades to pillars along the Nile Corniche — has been painted in the national colors of black, white, and red.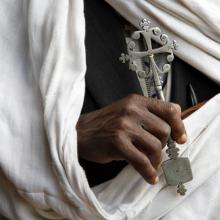 Coptic Christian leaders in the United States distanced themselves from an anti-Muslim film that has sparked protests in more than 24 countries, and denounced the Copts who reportedly produced and promoted the film.
"We reject any allegation that the Coptic Orthodox community has contributed to the production of this film," the Coptic Orthodox Archdiocese of America said in statement on Friday.
"Indeed, the producers of this film have taken these unwise and offensive actions independently and should be held responsible for their own actions."