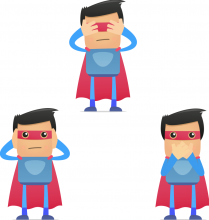 I went to college thinking political activism was sexy. Living in a large city gave me unparalleled access to protests for countless good causes. Chanting at anti-war marches and getting arrested on behalf of climate change legislation would make interesting party stories, I thought. I quickly hopped on the Occupy Chicago bandwagon, a movement which calls for a more equitable wealth distribution, but whose leaders and participants were largely white college graduates. None of my organizing work focused on racial inequalities, but stayed in the realm of money in politics, equitable banking practices, and climate change.
My journey took a profound turn at an organizing training where I proudly stated I was there because my faith called me to advocate for the least of these. In response, a powerful, albeit brash, leader in Chicago's movements angrily characterized me as an "activist do-gooder" who was fueled by the need to be a good white person. This label devastated me. I'm outspoken, passionate and willing to lead, I thought, so why can't people see me as a resource? I took a break from the organizing world feeling disillusioned and miffed.
This attitude forced me to ask myself, why was I drawn to political activism in the first place? What was it that drew me to the movements in which I involved myself? And why was I so offended that someone had questioned my motives?