conservative pundits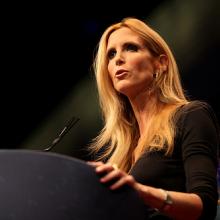 I'm telling you, these ultra-conservative spokespeople are gonna ruin my reputation if they keep putting stuff out there I agree with.

First, Pat Robertson and I see eye-to-eye on the decriminalization of marijuana.

Then doomsday prophet Harold Camping concedes that his predictions for the end of the world not only were off the mark, but actually were hubristic and sinful.

Now spotlight-hungry conservative bully Ann Coulter and I agree on the state of the GOP.

You guys keep this up and it's going to be really hard to blindly stereotype you.

Most of the stuff that comes out of Coulter's mouth when behind a microphone is hateful, angry and divisive. But her recent insights about the prospects of a GOP brokered convention point out some serious flaws in the political-celebrity machine.
Various Web sites and e-mails are reporting that cancer survival rates are much higher in the U.S. than in various European countries.