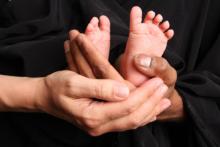 Nearly three in five births to unmarried women across the United States were to women living with their partner — marking the first time a majority of these births were to women in cohabiting relationships, according to a new analysis of federal data released Wednesday.
The increase was sharp; the percentage of nonmarital births within cohabiting relationships rose to 58 percent from 41 percent in just a few years, says the report, based on various data sources from the National Center for Health Statistics, collected between 2002 and 2013, the most recent available.
"What's happened is the percent of nonmarital births within cohabiting unions has been increasing, but now it's increased to the point where the majority of nonmarital births are to women that are cohabiting," said Sally Curtin, the report's co-author.
While the births in cohabiting relationships increased, the number, rate, and percentage of births to unmarried women overall declined during the same period.
In 2013, the total of 1,605,643 births to unmarried women was the lowest since 2005. The birthrate for unmarried women has steadily declined.