cofee farmers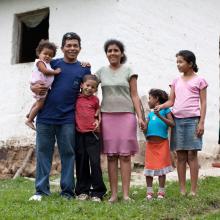 Fight global poverty, invest in agriculture. ~ Growers First
As the winter winds bite at our collars, a hot cup of coffee is a perfect antidote for healing. But what you might not consider when you sip a mug of dark roast is the economic injustices that many coffee growers around the world face.
Coffee is one of the largest cash crops in the world – the U.S.D.A. Foreign Agricultural Service reports that last year 15,689,340,000 pounds of coffee were distributed worldwide. Yet, indigenous coffee growers see only a tiny fraction of its revenue.
These are some of the reasons why fair exchange programs such as Growers First got into the coffee business — to tip the scales of economic and social inequity that has become a way of life for many coffee farmers globally in a more just direction.
Even more importantly, Growers First exists to transform lives. The non-profit based in Laguna Beach, Calif., has a powerful story of action, conflict, struggle — and ultimately hope.