Coalition of Immolakee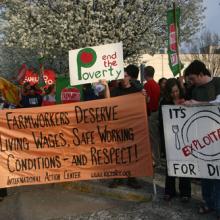 Dear Publix Leadership,
I should begin by saying that I am in almost all ways a big fan of your company. I often shop in a nearby Publix, and shopping there truly is a pleasure. It is clean. The staff are friendly and helpful. The products are good and the prices reasonable.
I'm especially impressed with the way Publix hires people with disabilities.
To provide a needed service and then go above and beyond in seeking to benefit the community — that's a winning combination, and a legacy to be proud of.
That's why I've been so surprised to see Publix (along with Wendy's) refusing (so far) to join the Fair Food Program. And that's why I've been outspoken in my desire to see Publix live up to the ideals of its founder, George Jenkins, who said, "Don't let making a profit stand in the way of doing the right thing."