Climate rally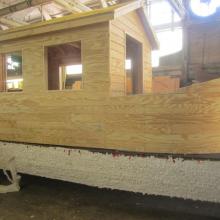 On Sunday, Noah's Ark will be rolling through the streets of New York City.
Powered by a bio-diesel truck and paid for by faith-rooted climate activists, it will drive on Manhattan's West Side alongside hundreds of thousands of climate activists calling for climate justice.
The ark appeared in a collective dream with other faith-rooted activists and organizers about how our wisdom traditions could speak to this urgent moment with radical creativity and dramatic flair.
The same old calls for action aren't getting through. We don't have much time to act, yet our world leaders lurch from crisis to crisis while the frog slowly boils in the pot. We are living through one of the greatest extinction in our planet's history. And even if we did survive the Earth's death by some technological miracle, what kind of life would that be?
We must help people see that climate disruption is real and that there are solutions. We need to help the media and our political leaders see this movement as truly multiracial, multigenerational, multifaith, and of many economic backgrounds.
This past Sunday an estimated 35,000 people gathered in Washington, D.C., to push for legislative action in response to climate change. In addition to speaking out against the proposed Keystone XL pipeline, the "Forward on Climate" rally organizers urged President Barack Obama to limit U.S. greenhouse gas emissions and transition to larger levels of renewable energy. In addition to the mass assembly near the White House, environmental groups held similar rallies in cities across the nation, including a significant turnout in Los Angeles. All together, some have described the events of the past weekend as the largest collection of climate change rallies in U.S. history.
The president has recently emerged as a potentially strong ally in the struggle against climate change, for his inaugural address included a renewed commitment to environmental leadership, as he stated: "We will respond to the threat of climate change knowing that the failure to do so would betray our children and future generations."
President Obama also addressed ecological concerns during his State of the Union speech, as he said: "We can choose to believe that Superstorm Sandy, and the most severe drought in decades, and the worst wildfires some states have ever seen were all just a freak coincidence. Or we can choose to believe in the overwhelming judgment of science – and act before it's too late." While conversation surrounding climate change was notably absent during his recent re-election campaign, the president appears to be making environmental concerns a top priority for his second term of office.
While President Obama seems to be a more visible environmental advocate, many are doubtful of his sincerity and question whether such statements are motivated by political calculation rather than genuine policy priorities. For example, in what can be described as a thought-provoking twist of irony, while thousands marched past the White House to move the president "Forward on Climate," he was out golfing, which just so happens to be a sport that many environmentalists perceive as an ecological tragedy.