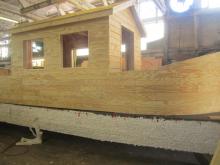 On Sunday, Noah's Ark will be rolling through the streets of New York City.
Powered by a bio-diesel truck and paid for by faith-rooted climate activists, it will drive on Manhattan's West Side alongside hundreds of thousands of climate activists calling for climate justice.
The ark appeared in a collective dream with other faith-rooted activists and organizers about how our wisdom traditions could speak to this urgent moment with radical creativity and dramatic flair.
The same old calls for action aren't getting through. We don't have much time to act, yet our world leaders lurch from crisis to crisis while the frog slowly boils in the pot. We are living through one of the greatest extinction in our planet's history. And even if we did survive the Earth's death by some technological miracle, what kind of life would that be?
We must help people see that climate disruption is real and that there are solutions. We need to help the media and our political leaders see this movement as truly multiracial, multigenerational, multifaith, and of many economic backgrounds.