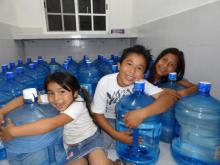 This Thursday, March 22nd, is World Water Day. The April 2012 issue of Sojourners includes Ched Myers' 'Everything Will Live Where the River Goes', a Bible study on water, God, and redemption.
The following hymn celebrates our need for clean water and the Living Water:
Once a Woman Seeking Water
BEACH SPRING 8.7.8.7. D ("God, Whose Giving Knows No Ending")
Once a woman seeking water at a well not far from home
Met a thirsty, waiting stranger from a people not her own.
Would she give a drink of water and respond to human need?
Could she know the joy and wonder she, the giver, would receive?...