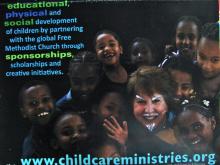 Last week was the first time I have ever been called a "poverty pimp" in front God and everyone—in public.  It certainly got my attention!
As Director of International Child Care Ministries, I straddle two worlds—the America I call home and the 30 countries where our sponsored children live. I travel back and forth between these two worlds several times a year and experience the stark contrast between my world and theirs. 
Here in the U.S., part of my responsibility is to advocate for the children at conferences, churches, and other venues. Last week at an event I had my display set up, 20 kids' faces looking out from their brochures, silently imploring conference attendees to choose them and become their sponsors.
My accuser was an eloquent professor of African American Studies. He is offended at groups like mine who apparently profit off Africa's poverty and perpetuate an image of Black helplessness. He is concerned that African American children who view pathetic images of hungry kids on TV internalize a sense of racial inferiority. And that's not the half of it.