church giving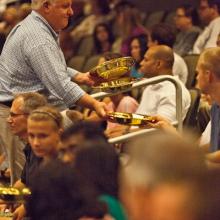 WASHINGTON — Collection plates are growing even lighter as Protestant church member giving reached new lows in 2011, and tithing probably will not recover from the recession, according to a new report by Empty Tomb, a Christian research group.
"Is the issue that the church is not providing an authentic alternative to the consumer mindset?" said Sylvia Ronsvalle, executive vice president of Empty Tomb. "Over a period of time, if the church isn't providing more of an authentic alternative, the church will lose."
The percentage of a church member's income given to the church dropped to 2.3 percent in 2011 (the latest year for which numbers are available), down from 2.4 percent in 2010, according to the Empty Tomb study.
The recession and a sluggish recovery have made for a lighter collection plate in recent years, but a new study shows that giving to U.S. congregations bounced back in 2011 as the economy improved.
According to the fourth annual "State of the Plate" survey released on Tuesday, 51 percent of churches last year saw an increase in giving, up from 43 percent in 2010 and 36 percent in 2009.
The national survey, sponsored by MAXIMUM Generosity, Christianity Today and the Evangelical Council for Financial Accountability (ECFA), asked more than 1,360 congregations of different sizes to report on their donations and budgets.