Christ's church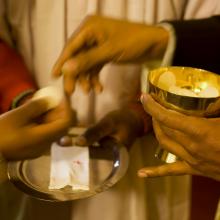 When it comes to sharing the Eucharist among faithful but separated Christ followers, I wonder if Jesus is waiting for the churches simply to be the Church?
For the sake of this uncommon meal and the One who gives himself to us in it we can partake together, not on the shaky foundation of our present tragic divisions but on the firm ground of our promised unity by joining now in the Great Feast we will celebrate with him forever in eternity.
It is, after all, his table. It is a table set not only in the presence of our enemies in this world but set also in the unseen realm of Christ's anticipated future rule that in a mystery comes to each of our houses of worship simultaneously as we gather in hope to encounter his resurrected person, week in and week out.
In this scenario, we remain mindful and respectful of our present divisions yet act on the coming unity we know is ours now by promise because no prayer of Jesus, certainly not his prayer that we be "one," can ever fail (John 17).