Christ's birth
Author's Note: As we close out Advent, when we so quickly determine what's our legal right or what we're owed or what "the Bible really says" when, after all, we're just simply too quick to judge. In these days where we must affirm #BlackLivesMatter, where we must stand up for victims of rape and abuse, and where we must struggle with our LGBTQ sisters and brothers for full inclusion, sermons like this are humbly offered.
We know the Christmas story well.
Those of us that have grown up with regular, annual, church-going rhythms — we essentially hear this story once a year.
Even so, those with no regular church commitments — people from all walks of life, people of faith or no particular faith, people from varied faiths — if you asked your friend, your neighbor, your cousin, a stranger on the street, I bet at least 50 percent of the time they'd be able to share the gist of the story:
Jesus was born to a virgin named Mary.
Mary was married to a guy (named Joseph).
There were angels, and wise men, and shepherds.
And I think there was a manger.
We know this story well.
But we hear it so often it becomes rote — literally a mechanically, automatically, mindlessly routine on repetition in our brains.
Yeah, yeah, yeah — 6lb 8oz baby Jesus, in a manger, Virgin Mary, Adopted Dad Joseph, sheep, shepherds, angels, stars at night, wise men, white Christmas, Rudolph the Red Nosed Reindeer …
You get my point.
So, let's hear the story one more time and lean in a bit to this wild world of dreams, angels, and ancient Jewish marriage contracts.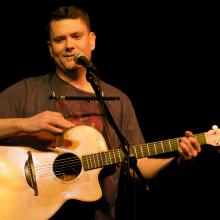 The first time I heard Jason Harrod sing was more than 20 years ago at a coffee house at Wheaton College outside Chicago where we were both studends at the time. He sang Neil Young's "Sugar Mountain," and his tenor voice was so pure, so perfect and sweet and heartbreakingly earnest, I ended up crying in my mochachino.
We're both now in our 40s, Jason is stil singing like an angel, and I'm still listening (occasionally in tears) along with many other fans who have discovered the unique charm of Jason's Smokey-Mountains-meets-Brooklyn-subway sensibilities and ever soulful wordsmithery.
Jason and his former musical partner in crime, Brian Funck, recorded "Lion Song" on their self-titled second album, Harrod & Funck that, while not a Christmas song per se, has always felt like a winter tune and tale to me. Seeking shelter from the cold and finding it. Getting lost and being found. The great gift of grace in all of its myriad forms — in relationship, in a light in the darkness, a glimpse of the horizon in the storm, or in the first toddling steps taken by a baby boy sent as a gift (to ALL) to heal and reconcile the world.