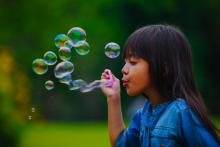 In C.S. Lewis' beloved Narnia chronicles, the youngest of the four main characters, a little girl named Lucy, encounters Aslan, the lion who is an archetype for God.
She hasn't seen him for a time, and she remarks, "Aslan, you are bigger." 
Aslan replies, with his strong, gentle voice, "Every year you grow, so shall I."  
As parents we are saddled with some anxiety to make sure we teach our children everything that they need to know within the short eighteen years we have them in our home. But when it comes to our faith, we can breathe easy, because our God is not One who can be limited to eighteen years of instruction. We get to walk with our children in this very beginning of their journey, and watch them dip their toes into just how wide and long and high and deep is the love of God.   
The question we need to ask when our children leave home is not, "Have you learned everything there is to know about God?"  
But, "Are you ready to get started?"