child-like faith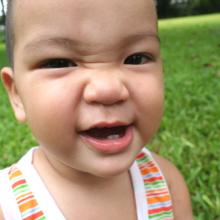 A couple days ago I called my friend Kae so we could talk about this Gospel reading where Jesus takes a child in his arms and teaches the disciples that if they welcome a child in his name they welcome God. And we started talking about the actual reality of children and how difficult small ones can be to manage. Kae told me of this brilliant technique she employs when dealing with toddlers.
She said it really helps her to be patient and compassionate with defiant, emotional, snot-faced toddlers when she just thinks of them like little versions of really drunk friends. Then when they keep falling down and bumping into things and bursting into tears she just treats them like she would a friend who is too drunk to know what they are doing, and who you just try and make sure doesn't hurt themselves, and who you clean up bodily fluids from, and make sure they drink some water, and then just lovingly change them into their pajamas and tuck them into bed.
Children are really a mess.