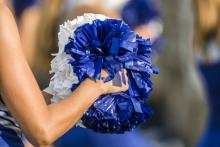 The Buffalo Bills cheerleaders are advised by management on which type of feminine product they should use for their menstrual cycle. They are told that they cannot wear clips or tie backs in their hair. They have been asked to perform backflips on demand at an annual golf tournament where men placed bets on which Buffalo "Jill" would ride in his golf cart.
For all these imposed regulations and for hundreds of hours of work, members of the NFL Buffalo "Jills" Cheerleading Squad did not receive a penny of wages.  
In April, five former Jills cheerleaders filed a lawsuit in the New York Supreme Court against the NFL franchise for "exploiting the women by failing to pay them in accordance with New York State minimum wage laws."  
The worst part of this is: I don't care.  
When I was growing up I never wanted to be a cheerleader. I barely had a Barbie doll. I raced my brother's Big Wheel on foot. I never had the desire to stand on the sidelines and cheer for other people, namely men, that were considered more athletic than myself.  
So when I heard the news of the Jills' unfair treatment, my personal sympathy level was somewhat low. They wanted to be cheerleaders, right? They signed up to wear short skirts and tight tops and dance in front of millions of people — they didn't have to do that.  
One commentator on the Jills' lawsuit said, "Nobody forced them to be cheerleaders. They weren't enslaved. Stop with the pity party."  
And there lies the rub. What's really at the root of these issues?