Charlotte, N.C.
The host city for the Democratic National Convention is not a particularly political place. Charlotte, N.C., is known for three things: banking, NASCAR, and religion.
And when it comes to religion, Billy Graham's spirit looms large.
America's most famous evangelist of the 20th century was born on a dairy farm just outside of town and was raised in Charlotte, home of his ministry.
For the Democrats – labeled disparagingly by some Republicans as the party of secular humanism – Charlotte is not a bad place to try and raise their religious profile.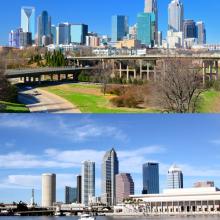 They have the two of the most stressful jobs in the country, at least for the next couple of months. Mayors Bob Buckhorn of Tampa, Fla., and Anthony Foxx of Charleston, N.C., will play host to the Republican and Democratic national conventions, respectively.
The two sat down with Politico's Chief White House Correspondent Mike Allen on Tuesday to discuss the challenges, economic opportunities, and politics of hosting such historic, national events.
"I don't look at this as a political event," Buckhorn said. "… Yes, I am a Democrat, but I intend to be the best host the Republicans have ever had."