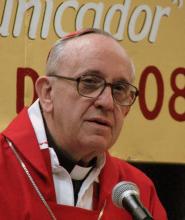 Jesuits are bound by oath not to seek higher office in the Roman Catholic Church, and now one of them has been elected to its highest office: Bishop of Rome, Vicar of Christ, Pontifex Maximus.
"On the one hand, Jesuits aren't supposed to be in positions of authority," said the Rev. Joseph Fessio, a Jesuit and founder of Ignatius Press. "On the other hand, they're supposed to be obedient to the church." Pope Francis, the first Jesuit to become pope, not only represents a paradox for the papacy, but also the larger history of the Society of Jesus, as the Jesuits are formally known.
The Jesuits have played a key role in the history of the church. For centuries, they have served as its leading missionaries, founded its most prestigious universities and committed themselves to alleviating the deepest poverty.