camden children's garden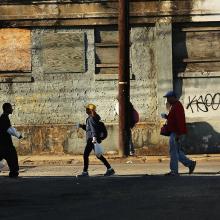 I recently heard that the state of New Jersey plans to evict the Camden Children's Garden from its 14-year-old home.
I don't know if you know much about Camden, N.J., but it's one of the cities in our country that wrestles with a myriad of social issues. There are a number of incredible people there that work tirelessly to improve the living and social conditions. Mission Year has spent a number of years living and working beside neighbors and friends in this city. The people there are very committed to things like improving housing, education, and tackling food desert issues, and they have very little resources with which to work.