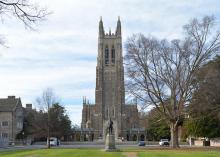 Officials at Duke University abruptly dropped plans to broadcast the Muslim call to prayer from the iconic bell tower of Duke Chapel after online protests led by evangelist Franklin Graham and unspecified security threats.
The decision on Jan. 15 came one day before the "adhan," or traditional call to prayer, was to be broadcast from the heart of campus in Durham, N.C.
Michael Schoenfeld, a Duke vice president for public affairs and government relations, said in a statement the school remains committed to "fostering an inclusive, tolerant, and welcoming campus" for all students but "it was clear that what was conceived as an effort to unify was not having the intended effect."
Schoenfeld said campus officials were aware of several security threats but declined to elaborate.
Graham, who leads his father's Billy Graham Evangelistic Association from the other end of the state, in Charlotte, said the call to prayer includes the words "Allahu Akbar," or "God is great," which was shouted by Islamist militants during last week's deadly attacks across Paris.
"As Christianity is being excluded from the public square and followers of Islam are raping, butchering, and beheading Christians, Jews, and anyone who doesn't submit to their Sharia Islamic law, Duke is promoting this in the name of religious pluralism," he said on his Facebook page.