Bush doctrine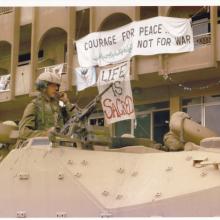 Ten years ago, in March of 2003, Iraqis braced themselves for the anticipated "Shock and Awe" attacks that the U.S. was planning to launch against them. The media buildup for the attack assured Iraqis that barbarous assaults were looming. I was living in Baghdad at the time, along with other Voices in the Wilderness activists determined to remain in Iraq, come what may. We didn't want U.S.-led military and economic war to sever bonds that had grown between ourselves and Iraqis who had befriended us over the past seven years. Since 1996, we had traveled to Iraq numerous times, carrying medicines for children and families in open violation of the economic sanctions that directly targeted the most vulnerable people in Iraqi society — the poor, the elderly, and the children.
I still feel haunted by children and their heartbroken mothers and fathers whom we met in Iraqi hospitals.
"I think I understand," murmured my friend Martin Thomas, a nurse from the U.K., as he sat in a pediatric ward in a Baghdad hospital in 1997, trying to comprehend the horrifying reality. "It's a death row for infants."
"Blessed are the peacemakers, for they shall be called sons [and daughters] of God."
Matthew 5: 9 from the Beatitudes
I grew up watching casualty reports from the Vietnam War on TV. My Uncle Bill, a lieutenant colonel in the Air Force, was serving there. My family watched the news every evening to learn about the latest casualty reports. I was too young to understand the anxiety of my parents, but I felt the tension while Uncle Bill was deployed.
As an adult, it's been a different story. I understand and experience things more fully and have an emotional connection to what I see and hear. That has been true for the last decade. Ten years ago, the Iraq War began. Ten years marked by conflict, violence, and loss. Ten years of debate about why we went to war and why we remained. Ten years dealing with death and injury – 4,488 U.S. deaths and 32,321 soldiers coming home with significant injuries. Suicide rates of soldiers are so high it is impossible to ignore – some while in Iraq and others after returning home. Traumatic brain injuries, grieving families, moral injury, and multiple limb loss are just a few of the constant reminders of the tremendous costs of war. The toll on the nation's economy has been long lasting as well. The jobless rate among veterans is staggeringly high.
The human toll has been significant. But military personnel aren't the only causalities of this war. Numbers vary, but statistics tell us more than 100,000 Iraqi citizens also have been killed and nearly 3 million have been displaced.
These figures cannot be ignored. And they are the results of war.