budget battles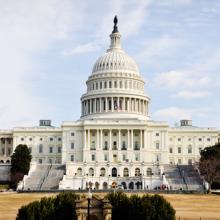 While immigration and gun violence issues are capturing most of the week's headlines, the budget battles have re-emerged in Washington, D.C. Last month House Budget Chairman Paul Ryan (R-Wis.) and Senate Budget Chairwoman Patty Murray (D-Wash.) released competing budget proposals. And today, President Barack Obama released his own plan, which aims to reduce the deficit through a combination of spending cuts and revenue increases.
As The Washington Post's Ezra Klein and Evan Soltas note:
Today's budget is the White House's effort to reach the bedrock of the fiscal debate. Half of its purpose is showing what they're willing to do. They want a budget compromise, and this budget proves it. There are now liberals protesting on the White House lawn. But the other half is revealing what the GOP is — or, more to the point, isn't — willing to do. Republicans don't want a budget compromise, and this budget is likely to prove that, too.

As the White House sees it, there are two possible outcomes to this budget. One is that it actually leads to a grand bargain, either now or in a couple of months. Another is that it proves to the press and the public that Republican intransigence is what's standing in the way of a grand bargain.