bromosapien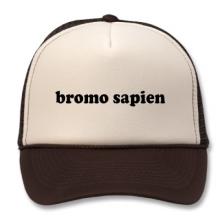 A few examples of how clueless I am about male identity, and how mixed-up the gender roles are becoming, just in my own family:
I've never killed anything, at least on purpose. The only time I ever shot a gun was when my dad took me to the range and handed over his Ruger for a few rounds. I hated it. The noise was deafening, and the recoil scared the shit out of me.
I own a pathetic amount of tools for a man in his late thirties who has owned two homes. By my age, my dad and grandparents had staked their claim on the garage as exclusively male territory by covering every wall and bit of floor space with table saws, drills, vices and every wrench – standard and metric – anyone could ever need. I have more guitars than screwdrivers, and it was only a few years ago that I finally got straight in my head what the difference between channel locks and regular pliers is.
I like potpourri; my wife digs the nickel defense.
I changed more diapers in the first month of my son's life than my dad ever did on me. I take care of the kids when Amy goes to meetings in the evenings, and I work from home every day.
I cry every time I watch Extreme Home Makeover. Amy records every episode of Real Sports on HBO. Oh, and I always cry when I watch that, too.
Damn you, Bryant Gumbel.