bring home the troops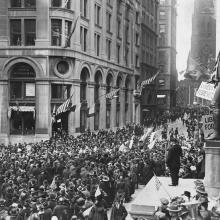 Before Veteran's Day was Veteran's Day, it was Armistice Day.
On the 11th hour of the 11th day of the 11th month in 1918, the cessation of hostilities of World War I took effect.
It was supposed to be the end of the "war to end all wars."
In 1926, Congress passed a resolution to commemorate the day "with thanksgiving and prayer and exercises designed to perpetuate peace through good will and mutual understanding."
In 1938 the day became known as "Armistice Day" with the intent that it would be a day dedicated to the world peace.
In 1954, after World War II, when the world stood in horror at the sight of the Nazi genocide machine and ghastly bombings of civilian populations culminating in the first ever deployment of nuclear bombs, the day became known as Veteran's Day — a day to honor military service.
I say if we are to truly honor veterans, we ought to remember and honor Armistice Day with the hope that we can bring an end to violent conflict within and between nations.