bold witness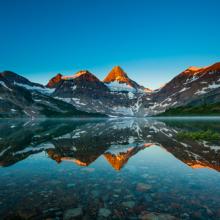 For most of my life, I have been a "Christian with conjunctions."

So I'm a Christian BUT… I'm not like that street preacher who yells about hell and damnation on the downtown corner.
I'm a Christian BUT I'm different from the televangelist who raises his fist in the air and screams about salvation.
My own priest, the Rev. Thomas Murphy, first described himself as a Christian with conjunctions in a sermon the morning before our Episcopal congregation took to the streets during a festival in downtown Asheville, N.C. Across the street from a karaoke booth, we handed out cold water to festivalgoers and offered a simple ministry with no judgment or obligation.

For most of us, it was the first time we had prayed the Eucharist in public, with our colleagues, students, and neighbors walking past. The white banner above us proclaimed: "God loves you. No exceptions."

I have realized that the ubiquitous street preacher has something to teach me: there is virtue in being bold about my faith. Through my research on congregations and climate change, this public witness to God's love has become easier for me as my church life now reflects my deep value of God's good earth.

The stakes of silence are high. If we don't speak out and act on our moral mandate to reconcile with creation, we risk destroying God's very creation.