Bob Marley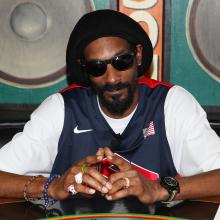 Back in in 1993, Snoop Dogg scored a huge hit with the hip-hop anthem "What's My Name?" Announcing his conversion to Rastafarianism on Monday, the rapper unveiled a new answer to that lyrical question.
"I want to bury Snoop Dogg and become Snoop Lion," he said at a press conference.
So, did the onetime gangsta rapper have to drop the "d-o-double-g" when he became a Rasta? Yes, and no, said Ennis Edmonds, a scholar at Kenyon College and an expert on Rastafarianism.
The religious movement doesn't require converts to change their names. But the faith was born in Jamaica, where calling someone a dog is deeply insulting, Edmonds said.
"Rastas would probably see calling yourself a dog as an indication of lack of self-knowledge," Edmonds said.
The 2012 Grammy Awards are upon us. With more categories than you could shake a baton at, the very best in music will come together this weekend to recognize and celebrate the achievements of some of the biggest talent of 2011.
While most are focused on the biggest categories — and trying to guess just how many awards Adele will take home with her — there are some real gems tucked away in a number of the less well-known categories.
For instance ... in the "Best Folk Album" category, there's usually underutilized instruments a-plenty, including an album made entirely on the ukulele from Eddie Vedder (which the Pearl Jam frontman cleverly named Ukulele Songs).
And there'll be some friendly brotherly competition between Stephen, Ziggy and Damian Marley, with all three sons of the legendary Bob nominated for awards (Stephen and Ziggy competing in the same category of "Best Reggae Album").