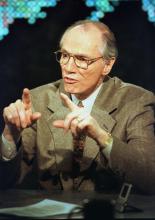 The former president of Bob Jones University, one of the nation's bastions of Christian fundamentalism, has apologized for comments he made in 1980 that gays and lesbians should be stoned to death.
Jones, who stepped down as BJU president in 2005, made the original remarks while visiting Jimmy Carter's White House, delivering a petition with 70,000 signatures opposing greater legal protections for gays and lesbians.
"I'm sure this will be greatly misquoted," Jones said at the time.
"But it would not be a bad idea to bring the swift justice today that was brought in Israel's day against murder and rape and homosexuality. I guarantee it would solve the problem post-haste if homosexuals were stoned, if murderers were immediately killed as the Bible commands."
In a statement issued by the university on March 21, Jones called his earlier comments "inflammatory" and "reckless."
"Upon now reading these long-forgotten words, they seem to me as words belonging to a total stranger — were my name not attached," he wrote.
"I cannot erase them, but wish I could, because they do not represent the belief of my heart or the content of my preaching. Neither before, nor since, that event in 1980 have I ever advocated the stoning of sinners."