blight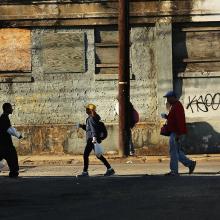 I recently heard that the state of New Jersey plans to evict the Camden Children's Garden from its 14-year-old home.
I don't know if you know much about Camden, N.J., but it's one of the cities in our country that wrestles with a myriad of social issues. There are a number of incredible people there that work tirelessly to improve the living and social conditions. Mission Year has spent a number of years living and working beside neighbors and friends in this city. The people there are very committed to things like improving housing, education, and tackling food desert issues, and they have very little resources with which to work.
Annie Lowrey's recent New York Times magazine article "Washington's Economic Boom, Financed by You" provides a stimulating look into Washington, D.C.'s "economic boom" of the last few years. As D.C. residents, many of us encounter the ongoing transformation of our city every day. We know the area's economy has grown about three times as much since 2007 as the country — largely a result of expanded government spending (primarily in the form of two foreign wars). We also know that the greater metropolitan region is one of the richest in the country. As Lowrey noted, the Washington metro area has seven out of the top 10 highest-income counties in the U.S., including the three highest.
However, Lowrey only tells one side of the story — the rich side. The "economic boom" has largely passed by D.C.'s poor and working people. By not mentioning D.C.'s grossly high poverty rates, the article is misleading.
Amid Washington's economic boom, there is also massive economic displacement, increased economic inequality, and higher rates of poverty.