bless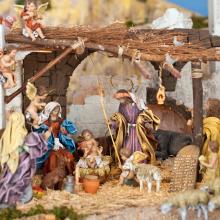 I'm sure most of us have played the scene in our heads one too many times: little baby Jesus, presumably Caucasian, lying in a tiny crib-esque manger comfortably padded with hay — even though the song specifically says "no crib for a bed" — while the animals, which are perfectly behaved, quietly and reverently look on. Cue the wise men, in their strange, exotic garb, and sprinkle a few angels in there — you know, the ones that look like babies with wings and white togas.
That was my impression of the nativity scene as a kid, and the popular children's Christmas carol, "Away in a Manger" didn't do anything to help. It seemed to perpetuate the picturesque nativity image of most of the figurine depictions in our living rooms.
But, if only for a few minutes, put aside the notions that the "manger" probably wasn't as clean and cozy as we thought, that it probably wasn't a silent night — have you met a baby that's gone through its first 24 hours without crying? — or that Jesus probably wasn't snug in a crib conveniently left in a manger.
Even though the song may seem like it only deserves a cursory glance, as it was originally published in theLittle Children's Book for Schools and Families in 1885, I purport there's something more to the childhood classic.
Christians toss out blessings like beads at Mardi Gras. They get offered so often and in so many contexts that it's hard to know what exactly it means. So I thought I'd break down at least some of the kinds of blessings floating around out there.
The Post-Sneeze Blessing: This is a weird one, because we don't bless people for coughing, yawning or any other bodily function. So why sneezing? No one is exactly sure, though some believe it dates back to Pope Gregory in the early first Century AD when the bubonic plague was everywhere in Europe. As the plague got closer to Rome, myth has it that the Pope ordered perpetual blessings around the city. So when someone sneezed, offering them a blessing was like a small insurance policy against the plague.
I actually heard a different one growing up that I liked better. There was an old superstition that sneezes were a means the body used to expel evil spirits from within. So once the bad mojo was on the outside, it was incumbent upon others to bless the sneezer, in an effort to keep them from sucking the demons or whatever back in.
The Backhanded Blessing: I grew up in Texas, and this was a real favorite in the south. It was generally offered in someone's absence, and immediately following some kind of gossip or insult. An example might be, "Poor Mabel Jean's husband has slept with everyone in town except for her, bless her heart." Apparently the blessing neutralizes the damage of the bad stuff....